Can we create Epaper Site in wordpress?
---
Posted By Administrator On 03 Sep 2021 14:05:59 Under Question and Answers
---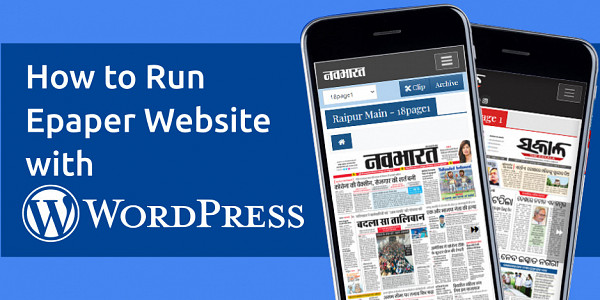 Running Epaper website with Wordpress installation is very easy. If you are running an existing Wordpress Newsportal and want to integrate Epaper website with it, then you can follow the following steps to run Epaper site with Wordpress:
Suppose you are running your newsportal on "example.com", then open your domain's DNS manager and add an "A Record" for subdomain "epaper" with our server's IP.

After that it will start showing "Default Server Page". (Fox example: epaper.example.com)

Now contact us for this subdomain via email or phone. We will setup your epaper website on subdomain.
Now in Wordpress dashboard go to "Appearance >> Menus" and select appropriate menu and then add an menu entry for custom link with https://epaper.example.com (Here replace example.com with your domain name)

That's it. Your Epaper website is now integrated with Wordpress.

RELATED VIDEO: How to run Epaper website on Custom domain/subdomain?

Epaper Desk: Get answers of your frequently asked questions about Epaper CMS Software.
---
---
---
0 Comments
---